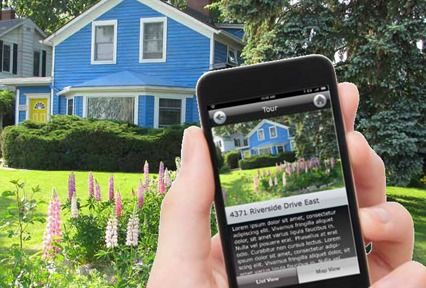 The Heritage Resource Centre of the University of Waterloo works to improve public understanding of natural and human heritage in
planning and public policy. In the January issue of the Ontario Planning Journal, Kayla Jonas Galvin and Lindsay Benjamin (both MA candidates in the school of planning) wrote about an exciting new tool for improving the discussion about heritage resources. The project is called Building Stories, it is a website and mobile application that works in two ways. It provides thousands of documents, photos and historical records for communities across Canada. It is also interactive and can empower communities to identify significant valued structures.
We spoke with Kayla and Lindsay about how the project came to be and how it can be used.
Q: How long have you both been working at the Heritage Resources Centre (HRC)?
KAYLA & LINDSAY:
We both started in 2007, Lindsay as a recent Planning graduate, and Kayla as a co-op student in Environment and Resource Studies. Kayla has been at the HRC since 2007, and Lindsay came back in 2009 after working in the private sector.
Q: How did you enter the field, what is your interest in heritage specifically?
LINDSAY:
Robert Shipley's Heritage Planning Workshop (PLAN 414) was my first introduction to heritage planning and sparked a keen interest in me. That coupled with two co-op terms working at the Ontario Heritage Trust and I became certain that heritage conservation through urban planning was a field I wanted to pursue.
My primary interest in the field is the conservation of built heritage. I've always been a little nostalgic with a love of old places, even the most dilapidated. Unfortunately these built resources are too readily torn down with little imagination dedicated to their re-use. The retention of these buildings not only tells us a story of where we've come from, but it sets the way for a more sustainable future. Heritage conservation speaks to many of my interests, in the built form, culture and the environment. I feel it's important to advocate the simple sentiment that the greenest building is the one already built.
KAYLA:
I came to heritage by way of Anthropology. My undergrad includes a joint major in Anthropology, so for my last co-op term I wanted something that explored that side of my degree. I fell into heritage and fell in love. Looking back I was in love with buildings before I knew that there were jobs in protecting them. I've always loved museums, and all my pictures on trips tended to be of historic neighbourhoods.My interest in the field lies in the role heritage buildings play in the larger city. My hometown of Hamilton, Ontario is full of historic building stock, and it is these historic areas that are becoming the most vibrant. The areas of Locke Street (small boutiques and resturants), James Street North (a cluster of art galleries), and the downtown core (where people are fighting to save buildings from the 1840s), are using their unique heritage to become destinations.
Q: What notable past projects have you worked on?
KAYLA & LINDSAY:
We have worked on a number of diverse projects over the last six years. In 2007 our team began working on Parks Canada's Historic Places Initiative where we nominated over 850 historic properties to the Canadian Register of Historic Places (www.historicplaces.ca) over three years. We have developed a Heritage Property Tax Relief Program for the Municipality of Chatham-Kent, written dozens of designation reports for municipalities in southern Ontario, undertook two phases of a large-scale research project entitled, Heritage Districts Work!, that determined that Heritage Conservation Districts in Ontario do indeed work. We have developed and populated a Municipal Heritage Register for the Town of Halton Hills, completed a comprehensive inventory of heritage bridges in the Grand River watershed entitled, Arch, Truss & Beam: The Grand River Watershed Heritage Bridge Inventory. Inventory work of this scale has never been completed in the watershed previously and the results are due for publication in March 2013.

Q: How did the Building Stories project come about? What other groups are involved in the project?
Building Stories (www.buildingstories.co) is another current project we are working on. It came about as a result of two successful grants: one from the Department of Canadian Heritage's Canadian Interactive Fund and another from the Ministry of Tourism, Culture and Sports' Cultural Strategic Investment Fund.
Building Stories is a partnership between the Heritage Resources Centre, and the Computer Systems Group, at the University of Waterloo. The project also involves the Centre for Community Mapping (COMAP), a not-for-profit group.
Q: What is the primary goal of Building Stories?
The goal of the site is to enable Canadians to take a direct role in identifying important community heritage assets. Anyone can register and add sites they think are imporant to the database. People can also comment and add aditional docuements to sites that are already listed. This information can be accessed via computer or a mobile application that's available on iPhone, Android and BlackBerry Torch.
Q:  Can Building Stories be used in helping to engage the public in heritage issues?
The site is a useful tool for public consultation as it allows for public input and crowd sourcing. A portal can be customized for individual municipalities to engage the public, and can be used for reviewing sites to nominate to a local municipal register.
The public nature of the site means that planners can use Building Stories to determine the resources most valued by their community. Clusters of resources could indicate a potential Heritage Conservation District or Cultural Heritage Landscape.
Q: How can this feed into the heritage planning and general planning process?
The Building Stories system is broken down into a number of clearly defined data categories. The significance section may have the most relevance for planners as the data entry form meets the criteria from Ontario Regulation 9/06 (an addendum to the Ontario Heritage Act), as well as national standards set out in the Standards and Guidelines for Historic Places in Canada. Thus, information added to the site by the public or volunteers can easily be used for researching buildings, and could contribute to designation by-laws for historic sites, or municipal register listings. Conversely, municipalities can easily enter sites as the data entry fields apply to the content in many cultural heritage studies and reports.
The development of Building Stories adds significantly to the tools available to engage the public, convey the importance of heritage, and build community confidence. Building Stories can help communities identify properties to place on municipal registers, identify potential Heritage Conservation Districts and Cultural Heritage Landscapes and expand the conservation movement's volunteer base.
Q: How do you maintain quality of submissions? Are there ever concerns about the reliability of the information you receive using?
All sites entered on Building Stories go through a review process to ensure quality control. At this point Kayla vets most of the submissions. However, as the site expands, municipalities or organizations can also become group users and can manage the content contributed by their members.
You can read the article by Kayla and Lindsay in the January / February issue of the Ontario Planning Journal or follow on twitter @Bldg_Stories